| | |
| --- | --- |
| Quality: | |
| Effectiveness: | |
| Features: | |
| Average Customer Rating: | |
Pros:
Lifelike rowing experience
Quality, durable materials
Excellent customer service
Cons:
Inaccurate data tracking
Lack of durability in the pulley's bungee cord
Difficult assembly
Bottom Line:
The ProRower H2O RX-750 is in the mid price range due to its extra features. However, these features add a layer of realism that is soothing while also providing a very effective workout. This product is a great option for light rowers who would like a lifelike rowing experience.
HCI Fitness Prorower RX-750 Prorower Indoor Water Rowing Machine
Manufacturer: HealthCare International, Inc.
Model: ProRower H2O RX-750 Home Rower
List Price:
Sale Price:

$961.82
View More Details on Amazon:
The RX-750 water rower's innovative hydro-power drive System provides an incredibly smooth and relaxing "on the water" rowing experience that feels and sounds just like the real thing
The RX-750 water rowing machine's features easy to adjust pivoting footrests for ease of Use, one size fits the entire family
Large ease-to-read display panel that shows: exercise time, distance, 500 split time, strokes/min, calories and heart RATE. Includes a built-in heart RATE receiver
The ProRower H2O RX-750 Home Series Rowing Machine is one of three different rowing models released by this company on their ProRower line. The other two are the RX-850 and the RX-950. There are a few subtle differences that separate one from the other. One key difference is the target market. The ProRower H2O RX-750 Home Series Rowing Machine, the subject of this review, is aimed at serious rowers, while the 850 is aimed at intermediate rowers and the 950 is best suited for serious rowers. If you consider yourself to be an intermediate or serious rower, you might want to check out those other products before making a purchasing decision. Otherwise, read on to find out if the RX-750 has the features that suit you.
Rowing Motion
H2O Fitness is known to put out products that are very good at replicating a lifelike rowing experience. Users report that the rowing motion, as well as the the sound of the rowing motion, are very reminiscent of rowing in real life. These effects are achieved thanks to the innovative design of the Hydro-Power Drive System, an internal paddle system, and a polycarbonate water tank. The manufacturer went to great lengths to create this lifelike experience and it is safe to say that they really pulled it off. After all, we are talking about a rower here. Getting the rowing motion right is a very important thing, and this product seems to have succeeded.
Comfort
This product has an ergonomic design that allows for a comfortable experience. You should not have to worry about blisters with this the ProRower H2O RX-750. If you have owned a budget rower in the past, you understand what a common problem that can be. Pivoting footrests also add to the overall comfort of the machine. Whether your feet are big, small, or in between, you should be able to find a comfortable position.
Resistance
When rowing in real life, the body of water you are on will act as the source of resistance. The design of this product attempts to mimic this situation. It comes with a polycarbonate tank that will hold up to approximately four gallons of water. In order to adjust resistance, you will have to add or remove water from the tank. While this may not be as convenient as simply turning a knob for higher or lower resistance, it does add a lot in terms of realism. You will have to weigh the strengths and weaknesses of this design. If you think the added excitement of realism will wear off on you soon, then you might want to look for another product. Of course, the water tank system offers more than just enhanced realism. It also delivers a very effective workout that many suggest is superior to what you will get from a traditional mechanical system.
Computer Console
The ProRower H2O RX-750 comes with an oversized computer monitor that provides some useful feedback during a workout. It will track everything from your 500-meter split time, distance traveled, calories burned, and heart rate. It comes with a heart rate receiver built-in.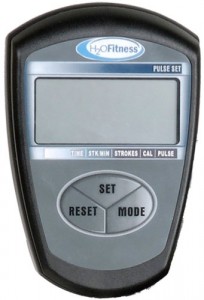 Assembly and Storage
Considering there are some extra parts here, including a water tank, you can expect assembly to take a little longer than the usual rower. Despite the extra parts, the ProRower H2O RX-750 is not overly heavy or difficult to move. When it comes time for storage, you can fold the frame down to smaller dimensions and find a secluded location.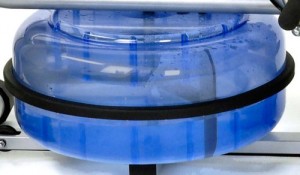 Warranty
The ProRower H2O RX-750 has a quality warranty. It covers the frame for lifetime, the tank and seals for three years, and all mechanical and non-wearing parts for up to two years.
Dimensions
This product is surprisingly lightweight. Despite weighing only 65 pounds, it can still support a max user weight of 350 pounds, which is extremely high for even heavy duty rowers. This should tell you that is constructed of high quality materials that will stand up to a lot of wear. The machine normally measures 78 x 20 x 22 inches, but it can fold down to 20 x 21 inches for upright storage.
User Reviews
With more than 45 reviews already up on the Amazon product page, it appears that the user response is very positive. H2O Fitness products tend to earn very high ratings, and the ProRower H2O RX-750 has not changed that at all. It has an average rating of out of 5 stars from reviewers. The positive comments focus on a number of things. Many find that the lifelike rowing motion, as well as the lapping water sounds coming from the tank, can provide a very soothing workout experience that also is highly effective. Other sources of positive comments include the comfort of the seat, the overall construction quality, and the affordable price of the machine.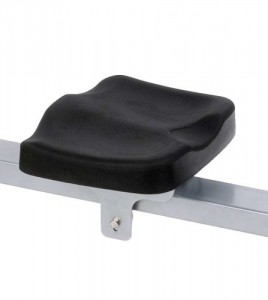 Any Complaints?
Apparently the monitor will sometimes display inaccurate figures when calculating number of strokes or distance traveled. The problem is not consistent and few users have lodged this complaint. Still, it is something to keep in mind if you find those measurements to be vitally important to your workout. Other users have complained about the durability of the bungee cord that is used in the pulley system. Another material might have been a better choice. However, with excellent customer service available from H2O, you can count on a quick response if the bungee cord should ever wear down or become a problem. Apparently, some users have received a completely new model directly from the company after their bungee cord broke.
Final Recommendation
The ProRower H2O RX-750 is a high quality machine that is one of the finest options in the mid price range category of rowers. If you are convinced that your rowing experience makes the RX-850 or RX-950 a better fit for you, then you should definitely check out those products. Otherwise, the RX-750 is a great choice for any light rowers out there.
| | |
| --- | --- |
| Dimensions | 78 x 20 x 22 inches (W x H x D) |
| Weight | 65 pounds |
| Shipping Weight | 121 pounds |
| Weight Capacity | 350 pounds |
| Resistance | 2.5 to 4.5 gallons |
No video reviews found for this product.