| | |
| --- | --- |
| Quality: | |
| Effectiveness: | |
| Features: | |
| Average Customer Rating: | |
Pros:
Easy assembly
Full body workout
Affordability
Infinite resistance
Bottom Line:
If you absolutely prefer to have a quiet exercise bike, then you may want to choose a magnetic resistance bike. However, if you are in the market for a bike with wind resistance technology that can deliver a full body workout at an affordable price, the Schwinn AD2 Airdyne Exercise Bike would be an excellent purchase.
Schwinn AD2 Airdyne Exercise Bike
Manufacturer: Schwinn
Model: AD2
List Price: $499.99
Sale Price:

$499.99
View More Details on Amazon:
Unique, full-body cardiovascular exercise bike with synchronized arm and leg motion
Progressive resistance system offers infinite levels of challenge
Stationary foot rest pegs for isolating upper body exercise
Simple to use LCD console with speed, RPM, distance, time, and calories
Same hand-to-pedal linking and geometry as original Airdynes; comprehensive warranty coverage
There are always plenty of consumers who would love to own a quality dual-action fan bike. Unfortunately, in the past, there have been affordable options in this category. The Schwinn AD2 Airdyne Exercise Bike proposes to change that. If you have looked at products like the Schwinn AD4 Airdyne or the Evo Comp in the past but found them to be too expensive for your budget, it is time for you to check out this more affordable option.
When it comes to budget friendly exercise equipment, it is important to fully assess all the ways that the manufacturer compromised in order to keep the price down. This review will give you an in-depth look at the Schwinn AD2 Airdyne Exercise Bike.
Flywheel
The dual-action fan is a major feature of this bike. Its patent-pending design offers a cutting edge way to displace air and produce infinite levels of resistance. Many users have remarked that the fan provides a smooth workout experience, but there are some concerns about the amount of noise it creates.
Resistance
Schwinn exercise bikes have been known for their wind resistance technology for more than 30 years now. Thanks to this technology, achieving higher levels of resistance is as easy as pedaling your bike faster. Lowering resistance is as simple as slowing down. This makes the Schwinn AD2 Airdyne Exercise Bike a good fit for people of any fitness level.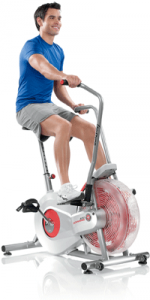 Comfort
This bike comes with a padded seat that is supposed to provide extra comfort during long workouts. Unfortunately, some users have complained that the seat is not comfortable. Purchasing a separate gel seat cover should fix the problem.
Features
Computer Monitor
The Schwinn AD2 Airdyne Exercise Bike comes with an LCD screen that offers feedback on many of the basic workout metrics that a user would need. You can track time, RPM, distance, speed, and calories burned. Users have found the data to be accurate and easy to read.
Moveable Handlebars
The handlebars on this machine are completely synchronized to the pedals. This means the user will receive an equally effective workout for their arms and their legs.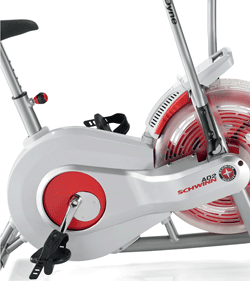 Deluxe Floor Protectors
If it drives you nuts when a piece of exercise equipment scuffs your floors or rubs away at your carpet, you will love this feature. The included deluxe floor protectors should be enough to keep this machine from causing any damage, but you also may want to place a mat under the machine.
Transport Wheels
The Schwinn AD2 Airdyne Exercise Bike is a little heavy at 96 pounds, but transport wheels on the bottom of the machine make it much easier to move. One person should be able to move this product when it needs to be stored.
Assembly and Storage
Schwinn was thoughtful enough to provide detailed assembly instructions that are easy to read and understand. This should significantly cut down on assembly time. The bike also has a simple design, so you should expect a quick and painless assembly process.
Storage is rather easy due to the transport wheels mentioned earlier. This bike won't fold down into a conveniently small package, but at least you can wheel it into a more secluded area when it is not in use.
Warranty
The Schwinn AD2 Airdyne Exercise Bike comes with a five-year frame warranty, a one-year parts and electronics warranty, and a 90-day labor and wear parts warranty.
Dimensions
This bike measures 58 x 25 x 48 inches. It weighs 96 pounds out of the box.
User Reviews
In general, the Schwinn AD2 Airdyne Exercise Bike is getting positive reviews from users. With approximately 170 reviews posted on Amazon, the average overall rating stands at out of 5 stars.
Users have pointed to the easy assembly process, the full body workout experience, the affordable price, and the highly customizable resistance system as the best features of this product. However, there are a couple of issues that are holding this bike back from getting a higher overall score from customers.
Any Complaints?
The seat is a common target for complaints. Users do not find that it provides enough comfort during a workout. This problem does have a rather simple solution, though. Purchasing a gel seat cover should always make any piece of exercise equipment a bit more comfortable.
Users have also remarked that the Schwinn AD2 Airdyne Exercise Bike is rather loud. More noise should be expected with a bike that has wind resistance technology. A magnetic resistance bike should provide a quieter experience if that is a must for your workouts.
Final Recommendation
Many consumers will be thrilled to learn that there is now a dual action fan bike on the market that is affordable. While you may have to compromise on noise and comfort a bit, the Schwinn AD2 Airdyne Exercise Bike delivers on its promise of providing a full body workout with infinite resistance.
| | |
| --- | --- |
| Resistance Levels | Infinite |
| Resistance System | Air |
| Drive System | Singe stage-belt drive |
| Number of Workout Programs | N/A |
| Workouts | Simultaneous upper / lower body or upper body workout only |
| Heart Rate | N/A |
| Display Type | LCD |
| Display Readouts | Time, Distance, Calories, RPM |
| Power Requirements | 2 AA Batteries (not included) |
| Seat | Padded |
| Product Dimensions (L x W x H) | 58 x 25 x 48 inches |
| Product Weight | 96 pounds |
| Warranty | Frame: 5 years, Parts: 1 year, Electronics: 1 year, Labor: 90 days, Wear Items: 90 days |
| Maxium User Weight | 250 pounds |
No video reviews found for this product.