| | |
| --- | --- |
| Quality: | |
| Effectiveness: | |
| Features: | |
| Average Customer Rating: | |
Pros:
Quality materials
Quiet operation
Effectiveness of workout experience
Cons:
Poor seat comfort
Inaccurate digital readouts
Bottom Line:
This machine delivers a highly effective workout experience at a very budget-friendly price. The few drawbacks are relatively minor compared to all that this product has to offer.
Exerpeutic Folding Magnetic Upright Bike with Pulse
Manufacturer: Exerpeutic
Model: 1200
List Price: $169.49
Sale Price:

$149.00
View More Details on Amazon:
WEIGHT CAPACITY: Up to 300 lbs. Intended to be used on the hard flat floor.
SEATING COMFORT: Large seat cushion for people of any size, easily adjustable to fit anywhere from 5'3 inch to 6'1 inch users. HEART RATE: Hand Pulse Monitor
Please tighten the Screws/Bolts to avoid noise during pedaling;Fitness Goal:Increase Cardio, Lose Weight. The bike will fold to at least ½ the size as when fully assembled, so it is uniquely compact
COMPACT DESIGN: Folds for storage and can moved with the included transportation wheels
TENSION RESISTANCE: An 8 level Magnetic Tension control system, allows the user to adjust the tension level for an easier or more difficult workout. Refer to the manual for troubleshooting steps of Tension system malfunctioning.
The very low price of the Exerpeutic Folding Magnetic Upright Bike with Pulse has played a key role in making it one of the best selling exercise bikes out there. However, that does not necessarily mean that people are experience a low risk low reward situation. This bike has a set of features that stack up well when compared to bikes in higher price ranges. There are some compromises, however, and a big one seems to be technological features. Read this review to see how whether the good outweighs the bad or vice versa.
Flywheel
The Exerpeutic Folding Magnetic Upright Bike comes equipped with a flywheel capable of delivering a smooth and quiet pedaling motion. The real advantage of the extra quiet workout experience is that it will allow you to workout in early morning or late night situations that might otherwise have been off limits unless you live alone. The flywheel has a V-belt drive and a high torque cranking system.
Resistance
The magnetic tension control system on this bike allows users to adjust resistance with a simple turn of a knob. There are eight different levels of resistance that cover the full spectrum. Most users will have no problem finding the right amount of resistance to match their fitness level. However, there have been some concerns raised regarding the highest resistance levels. Specifically, experienced exercisers in tip-top shape have suggested that the Exerpeutic Folding Magnetic Upright Bike does not offer a sufficiently challenging workout even at maximum resistance. With the low price point, it is no surprise that this machine may be better suited for novices.
Comfort
The cushioned seat on the Exerpeutic Folding Magnetic Upright Bike provides a comfortable workout experience. The adjustability of the seat makes it easy for both male and female exercisers, measuring anywhere from 5'3" to 6'3" in height, to find an ideal position. Oversized pedals also are included to make sure a wide range of foot sizes are accommodated. Straps prevent foot slippage from interrupting a workout.
Unlike some other exercise bikes, it is easy to get both on and off the Exerpeutic Folding Magnetic Upright Bike . This should tell you it has been designed with the user in mind. Leg stabilizers also help prevent wobble during exercise and while mounting or dismounting.
Programs and Features
Computer Console
The computer console on this exercise bike does not have a wide range of features. That should be expected with the low price. After all, there have to be some compromises for a budget-friendly product. Exerpeutic clearly targeted technology as the item that could be stripped down. The console does however provide users with the ability to track calories burned, distance, time, and heart rate. Sensors in the handlebars measure the heart rate, but like with many other machines similar to this one, the readings are not always accurate. The data is all easy to read thanks to an oversized display panel.
Assembly and Storage
Assembly time and effort are pretty standard for an exercise bike. You should not expect any extra hassle.
It should be easy to move or find storage space for your Exerpeutic Folding Magnetic Upright Bike . At only 39 pounds, this is an extremely light weight exercise bike. It also folds down for more convenient storage. It will be easy to find an out of the way spot to slide the bike when visitors are over. With rolling wheels on the bottom of the bike, sliding it into storage position will be a cinch.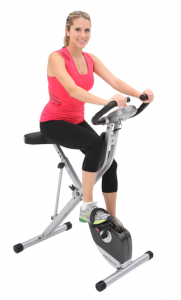 Warranty
The Exerpeutic Folding Magnetic Upright Bike with Pulse model is backed by a one-year warranty for parts and a 90-day warranty for labor.
Dimensions
The bike measures 31 x 19 x 46 inches and weighs 39 pounds.
User Reviews
The Exerpeutic Folding Magnetic Upright Bike has received almost 700 Amazon reviews and counting. The overwhelming majority have had positive things to say, adding up to an average rating of 4.5 stars out of 5. With that level of appreciation from customers, it is easy to see how this bike has become a top seller.
In particular, reviewers have pointed to the bike's quality materials, the quietness of its operation, and the effectiveness of its workout experience.
Any Complaints?
As always, there are still a few complaints out there. The negative reviews have focused on a few minor concerns, including mixed feelings about the comfort of the seat, the accuracy of digital readouts, and the lack of coasting in flywheel. If any of these concerns have affected your enjoyment of an exercise bike in the past, you may want to look elsewhere.
Final Recommendation
The most important thing to remember is that the Exerpeutic Folding Magnetic Upright Bike definitely delivers an effective workout experience at a budget-friendly price. That is what it is designed and marketed to do, and it is successful. Consumers seem to have decided that this is the best exercise bike in this price range, which is why it is selling so well.
That being said, there are some drawbacks that come with purchasing an exercise bike with a lower price tag. You are sacrificing some of the technological features that come with most pricier bikes. If you are simply looking for a durable, no-frills bike that provides you with a great workout in the comfort of your home, this is a great place to start. If you want to have a feature-rich bike that provides you with extra interactivity, you should look at another product.
| | |
| --- | --- |
| Dimensions |  46 x 14 x 9 inches |
| Weight | 51 pounds |
| Shipping Weight | 50.8 pounds |
| Weight Capacity | 300 lbs |
| LCD Size | 3.3"W x 1.5"H |
| User Height | between 5'3" and 6'1" |
No video reviews found for this product.