| | |
| --- | --- |
| Quality: | |
| Effectiveness: | |
| Features: | |
| Average Customer Rating: | |
Pros:
Excellent shock absorption system
Welded steel components provide sturdiness and durability
Easy storage
Cons:
Motor does not support running
Weak fan
Basic interface
Bottom Line:
The Horizon Fitness T101-04 Treadmill is a well built machine that should be a solid entry level purchase for many different kinds of users. It may not be the ideal choice if you want running to be a regular part of your treadmill workout routine, but otherwise it qualifies as a great all around machine.
Horizon Fitness T101-04 Treadmill
Manufacturer: Horizon Fitness — IMPORT
Model: HTM0944-01
List Price: $999.00
Sale Price:

$999.00
View More Details on Amazon:
Rated a best "Value Buy" for walking by the Good Housekeeping Institute and by the Treadmill Doctor as one of the "Best Buys" in its category
Folding treadmill with speeds up to 10 MPH, incline to 10 percent, 20 x 55-Inch running area. Assembled Dimensions: 70 x 33.5 x 55″" Folded Dimensions: 45.5 x 33.5 x 61″
30 program options including: manual workout, 10 Step-goal workouts, 10 distance-based workouts, 6 calorie-goal workouts and 3 intervals workouts
Sonic Surround speakers with MP3 compatibility; Pulse grip heart rate monitoring
2.25 continuous duty CHP motor for quiet operation. 300-pound maximum user weight; Lifetime warranty on frame and motor, 2 yr parts, 1 yr labor
The Horizon Fitness T101-04 Treadmill is a recent addition to the mid-price category of treadmills. This is not a budget machine so it is no surprise to find some extra features like a fan and speakers. The 101-04 can deliver a comfortable, effective workout, but the question remains whether or not it represents a good value compared to its competitors. Read to learn more about all that this product has to offer.
Motor
The Horizon Fitness T101-04 Treadmill comes equipped with a 2.25 horsepower motor. If this sounds a little low on power to you, you would be right. This motor most likely will not be able to provide enough power to support any running you might want to do. Inclined, high speed running is pretty much out of the question.
For many people, this does not have to be a deal breaker. If your routines consists mostly of jogging and walking, this motor can provide quiet and smooth operation. The incline adjusts from 0 to 10 percent, and the machine can go up to 10 MPH.
Treadbelt
The treadbelt measures 20 x 55 inches. It should be able to accommodate the vast majority of users. Perhaps people 6'4" and taller, or people with an extra long stride, would feel confined.
The Horizon Fitness T101-04 Treadmill really stands out when it comes to comfort. Thanks to the patented PerfectFLEX cushioning system on the deck, this machine can provide an exceptional level of shock absorption and support.
Programs and Features
The Horizon Fitness T101-04 Treadmill comes with a wide variety of pre-programmed workouts. There are many different options to choose from, including workouts based on distance goals, interval goals, and calorie goals. With the variety available here, you should be able to find something that directly benefits your unique fitness goals.
Console
The computer console on the Horizon Fitness T101-04 Treadmill makes it easy to interact and follow along with the programs. You will have quick access to key information like speed, workout progress, incline, distance traveled, and speed. All of this data is easy to read on the back-lit LCD display. Thanks to sensors in the hand grips, you can also check your heart rate while working out.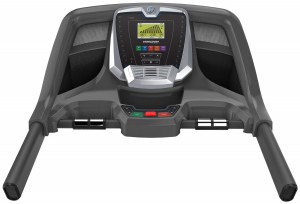 Speakers
Exercise equipment speakers rarely produce a quality sound. Surprisingly, the Horizon Fitness T101-04 Treadmill provides a pleasant music listening experience.
Fan
The fan is not as effective as the speakers. Most treadmills suffer from a weak fan, and that is the case with this machine. Do not expect a strong cooling breeze.
Assembly and Storage
The Horizon Fitness T101-04 Treadmill has a shipping weight of 192 pounds, making it one of the heavier treadmills on the market. If you do not pay for professional installation and assembly, you should definitely consider asking someone for help. It will be much easier to screw in some of the heavier parts if you have help. It should only take around 45 minutes to an hour for two people to complete the assembly.
The FratherLIGHT design, along with some well placed wheels, make moving and storing this heavy duty machine a lot easier than you might think. It is heavy, but you can lower the deck and wheel it to a proper storage space without too much effort.
Warranty
This product comes with a lifetime warranty for the frame and motor, and a one-year warranty for all parts and labor.
Dimensions
This machine measures 70 x 33.5 x 55 inches and weighs 165 pounds after it is fully assembled. The max user weight capacity is 300 pounds.
User Reviews
There are only 22 reviews up on Amazon for this relatively new product, but the response has been very positive so far. It has received an average rating of out of 5 stars.
Most of the positive comments focus on the easy assembly, quiet operation, wide range of programs, sleek design, and easy storage. Several users have also mentioned that Horizon Fitness provides excellent customer support for this machine.
Any Complaints?
There are only minor complaints for the Horizon Fitness T101-04 Treadmill. The weak fan is a bit of an issue, but that is something that many users have almost come to expect with exercise equipment. The motor is unable to support high speed running, but that is not something most users expect from a mid-price treadmill. Some users also have mentioned that they find the interface to be very basic.
Final Recommendation
Users have very few complaints about the Horizon Fitness T101-04 Treadmill. It has been rated as a "Best Buy" by many different reviewers. It should be considered a solid mid-price treadmill that delivers good value for money. You won't find some of the features of a high end treadmill, but the Horizon Fitness T101-04 Treadmill can provide you with a comfortable, effective workout experience for years to come.
| | |
| --- | --- |
| Dimensions | 55″ H x 33.5″ W x 70″ D |
| Weight | 165 pounds |
| Shipping Weight | 192 pounds |
| Weight Capacity | 300 pounds |
| Belt Size | 20″ W x 55″ D |
| Max Speed | 10 MPH |
| Speed Incline | 10 percent |
No video reviews found for this product.