Warning
: curl_setopt() expects parameter 2 to be long, string given in
/var/www/html/wp-content/plugins/reviewazonpro/api/lib/requestcore/requestcore.class.php
on line
431
| | |
| --- | --- |
| Quality: | |
| Effectiveness: | |
| Features: | |
| Average Customer Rating: | |
Pros:
Quiet, smooth motor
Very sturdy treadmill
Free LifeSpan Fitness Club membership
Wide range of workout programs
Cons:
Heavy and difficult to move
Poor speakers
Bottom Line:
This product has been rated as a "Best Buy" treadmill for some very good reasons. Not only does it come packed with workout programs, but it also is constructed from quality materials that should last. It is a smart purchase and well worth the asking price.
LifeSpan TR1200i Folding Treadmill
Manufacturer: LifeSpan
Model: TR 1200i
List Price: $1,499.99
Sale Price:

$899.00
View More Details on Amazon:
The best selling electric treadmill by Lifespan, foldable and portable capability turns this motorized running machine into a small compact size; Step-up Height :7.5 inches
Heavy duty and high capacity 2.5 HP motor with a large 20″ x 56″ walking belt surface, and 15 levels of adjustable incline.
Quiet and lightweight manual fold for space saving and storable purposes in your office or home. Console tracks time, calories, distance, speed, and more.
21 trainer programs targeting weight loss, healthy living, sports training and heart rate programs with Bluetooth connectivity.
Lifetime warranty on frame and motor. 300 pound user weight limit.
LifeSpan treadmills are known for packing tons of technological features into affordable packages. The LifeSpan TR 1200i folding treadmill is one of the company's most popular products. There are many reasons that this item has continued to sell in big numbers. The two biggest factors in the TR1200i's success seem to be its durability and its LifeSpan Fitness Club feature that takes the role of a personal trainer for users. Read on to find out about all the pros and cons of the LifeSpan TR 1200i folding treadmill.
Motor
While the TR 1200i's 2.5 HP continuous motor leaves a little to be desired in the power department, most joggers and walkers will find that it suits their needs. Heavier individuals and people who want to use it for running may find that it comes up lacking.
With 2" rollers in the rear and 2.5" front end rollers, the motor should be able to deliver smooth, quiet, and reliable operation for many years to come. However, thanks to a lifetime warranty, you never have to worry about whether it will break down or not.
Treadbelt
The LifeSpan TR 1200i folding treadmill has a treadbelt that measures 20" x 56", which is comparable to other treadmills in this price range. These dimensions allow users enough space to take a jogging stride without feeling cramped. For extremely tall users, or those who have a long running stride, it may be better to look for a treadmill that can provide a length of 60" or more.
Technological Features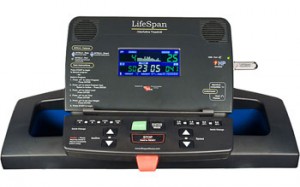 The LifeSpan TR 1200i folding treadmill has a number of programs and features designed to help users achieve their fitness goals.
LifeSpan TR1200i Console
This model is equipped with 17 programs that provide management of different facets of your fitness goals. All of them can be directly controlled through the console. Some of the program categories include diet management, sports training, weight management, and more. Exercise physiologists designed the programs to ensure users have effective guidance that also is safe.
Lifespan Fitness Club
Purchasing a LifeSpan TR1200i earns you a free membership to the LifeSpan Fitness Club. This online resource allows users to create and save exercise regimens, track progress, and find educational health and fitness information.
If you insert a USB device into the console prior to exercising, the fitness club program will record all of your workout stats and store them on your device. The program also can use this information to suggest a custom workout routine that is perfectly tailored to your capabilities and fitness goals.
Other Features
Speakers
Speakers come included with the LifeSpan TR1200i model. While you should not expect high sound quality from these speakers, they do provide a listening experience that is superior to other treadmills in this price bracket. In case you want to plug in a device, there is a built-in headphone jack that works perfectly with MP3 players.
Holders
This treadmill comes with a book rack and a cup holder designed to fit water bottles.
Dimensions
The LifeSpan TR 1200i folding treadmill is 70 x 33 x 54 inches. It has a shipping weight of 220 pounds and weighs 204 pounds out of the box.
Assembly and Storage
This model folds into dimensions of 39 x 33 x 66 inches for storage. Most users have reported that it is very easy to assemble the treadmill. It should take two people roughly two hours to get everything set up and operational.
Warranty
The TR1200i comes with a lifetime warranty for the frame and motor. Parts are covered for three years and labor for one year.
User Reviews
Over 150 people have rated the LifeSpan TR1200i treadmill on Amazon. The average score for these reviews is 4.3. It appears that the general consensus is that this is a quality product without any major drawbacks. Many reviewers have noted the quietness and smoothness of the motor, the overall sturdiness of the treadmill, the free LifeSpan Fitness Club membership, and the wide range of workout programs as the biggest positives.
Any Complaints?
A few reviewers have left negative comments regarding the sound quality of the speakers. Unfortunately, this is a common complaint for treadmills in this price range. Relative to its competitors, the speakers on the TR 1200i are above average.
Some reviewers have also noted that at 204 pounds, the LifeSpan TR 1200i is a little on the heavy side. This makes it difficult for one person to assemble or re-position the treadmill. Make sure you get help.
Final Recommendation
Experts highly recommend the LifeSpan TR1200i treadmill. In the past, this model has been given the "Best Buy" Award from Treadmill Doctor, and Fitness Professor named it "Head of the Class" Best Treadmill under $1,000. In 2013, the LifeSpan TR1200i is back and better than ever. Not only is it quiet, durable, and easy on the joints, but it also has some exceptional extra features that help users manage workouts and achieve fitness goals. This is one of the best value treadmills that you will find.
| | |
| --- | --- |
| Belt Size | 20 by 56 inches |
| Drive Motor | 2.5-horsepower continuous-duty DC |
| Belt Type | 2 ply |
| Incline Motor | 800-pounds maximum lift |
| Rollers | 2.5 inches (front), 2 inches (rear) |
| Speed | 0.5 to 11 miles per hour |
| Incline | 15 levels |
| Deck Suspension | 6 variable-density elastomers |
| Deck | 3/4-inch phenolic |
| Folding System | EZ Drop |
| Side Rails | Nonslip plastic |
| Full Dimensions | 33 by 54 by 70 inches (W x H x D) |
| Folded Dimensions | 39 by 66 by 33 inches |
| Capacity | 300 pounds |
No video reviews found for this product.