| | |
| --- | --- |
| Quality: | |
| Effectiveness: | |
| Features: | |
| Average Customer Rating: | |
Pros:
16 resistance levels
13 pre-set programs
Sturdy, effective workout
Cons:
Long assembly process
Hard to read the display
Bottom Line:
The Xterra Elliptical Trainer comes with more programs and resistance levels than you would expect on a machine in this price range. While it may not be quite as comfortable as some of its more expensive counterparts, it still delivers an amazing return on value. As long as you can deal with the difficult assembly process, you should love the Xterra Elliptical Trainer.
XTERRA Fitness FS2.5 Elliptical Trainer Machine
Manufacturer: XTERRA Fitness
Model: FS2.5
List Price: $399.99
Sale Price:

$249.99
View More Details on Amazon:
Ergonomic 14-Inch stride length provides a smooth, comfortable elliptical motion forward and reverse
22lb heavy duty flywheel offers premium, fluid motion
Large Dual Color 5-Inch x 2.5-Inch LCD display is easy to read and comes w/heart rate receiver built in and speakers for an MP3 player
24 programs including 2 heart rate programs, 1 body fat program, 4 user-defined programs and a manual program
16 levels of resistance provide a variety of exercise options for all fitness levels
Xterra is relatively new and unknown in the elliptical market. That did not stop them from designing an excellent product when they went to build the Xterra Elliptical Trainer. Many users and reviewers compare the performance of this product to competitors that are priced hundreds of dollars more.
While there some nice features to rave about with the Xterra Elliptical Trainer, there also are some weak points. Read on to find out what compromises were made on this product and whether they should keep you from making a purchase.
Stride
The stride on this machine is a little shorter than what would be considered ideal. Measuring in at 14", the stride length is likely to make people more than 6 feet tall feel confined. Keep that in mind if you are above average height for a male. Otherwise, you should not experience any serious confinement while working out. In fact, you will enjoy a very smooth motion that does a good job of mimicking the natural stride of a walker or jogger.
The flywheel on the standard model weighs in at 17.6 pounds, and it is possible to upgrade to a 22 pound flywheel. Many users have found that the bigger and more expensive option delivers roughly the same experience as the smaller version. Both flywheel options are relatively heavy and capable of preventing wobble during workouts. This machine has excellent balance.
Resistance
The Xterra Elliptical Trainer has a greater than average number of resistance levels. While many similarly priced machines try to get away with 10, or even 8, levels of resistance, the Xterra comes with a whopping 16. This means that you should have no problem setting this machine to the exact difficulty level that works for you.
Programs
You will find 13 different pre-set programs on the Xterra Elliptical Trainer. There are other ellipticals that retail for double the price of the Xterra that only come with 10 programs. With options for weight loss, calorie goals, heart rate control, custom, and time trials, this machine comes with capabilities that are even hard to find on much pricier models.
Console
The console includes a large 5 x 2.5 inch LCD display screen. This monitor provides feedback on the most common workout metrics, including time, distance, and calories burned. Hand grip pulse sensors make it possible for you to track your heart rate on the screen. Unfortunately, many users find the pulse reading to be inaccurate. Another unfortunate issue with the monitor is that there is no backlight, which makes reading the screen difficult without plenty of light in the room.
Comfort
While the Xterra Elliptical Trainer may have trouble matching the comfort levels provided by some of its more expensive competitors, that is not to say it does not provide a pleasant workout experience. The Xterra comes with oversized pedals and cushioned handlebars.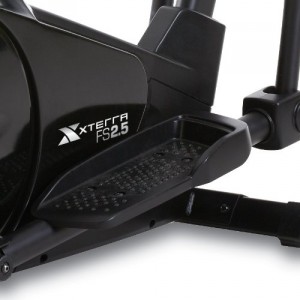 Assembly and Storage
The machine arrives with some parts to assemble. In order to speed up the process you may want to use your own tools rather than the ones included in the shipping box. Even with quality tools, the process can still take as long as two to three hours. Some have reported that poor instructions also contribute to the long and sometimes frustrating assembly experience.
Storing the Xterra Elliptical Trainer is much simpler thanks to handy transport wheels. Without those, this 112 machine might be a real challenge to move from one room to the next.
Warranty
The machine comes with two warranties. The frame is covered for five years and the parts for one year.
Dimensions
When fully assembled, the Xterra Elliptical Trainer measures 63.8 x 25 x 50.8 inches.
User reviews
The Xterra Elliptical Trainer has received mostly good reviews from users on Amazon. Approximately 40 people have weighed in with their opinion. The average rating clocks in at around four out of five stars, which is roughly average for a piece of exercise equipment.
Many users are surprised to find that the Xterra Elliptical Trainer has as many resistance levels and workout programs as it does. They also comment on the smoothness and stability of the elliptical motion as well as its quietness.
Complaints
Many of the complaints are centered on the assembly process. With many users reporting well over two hours in assembly time, it is easy to see why there are complaints. With that said, this is a one-time problem that should not crop up again in the life of the machine. Some reviewers also have removed a half or full point from their rating because of the poor lighting on the LCD display.
Final Recommendation
The Xterra Elliptical Trainer has many resistance levels, ample pre-set programs, and it even allows users to target diverse muscle groups by offering forward and reverse directions. These are great features for a machine in this price range. The assembly and display issues are enough to keep this model from being a perfect option, but it certainly does offer nice value. It would be a smart purchase for any exerciser six feet and under and 250 pounds or less.
| | |
| --- | --- |
| Dimensions | 63.8L x 25W x 50.8H inches |
| Weight | 112 pounds |
| Capacity | 250 pounds |
| Resistance | 16 levels |
| # of Programs | 13 |
| Stride Length | 14 inches |
| Console Size | 5 x 2.5 inches |
| Flywheel Weight | 17.6 pounds |
| Power | 110v plug in |
No video reviews found for this product.