| | |
| --- | --- |
| Quality: | |
| Effectiveness: | |
| Features: | |
| Average Customer Rating: | |
Pros:
Comfort
Quiet, smooth operation
Nine goal-based program options
Cons:
Computer console is difficult to use
Loud beeping sounds when buttons are pushed
No on/off switch
Bottom Line:
Users have lodged some valid complaints at this product, but on the whole it has been received very well by consumers. The console may be difficult to use, but, judging by the reviews, this product is capable of delivering a high quality experience overall.
Horizon Fitness EX-59 Elliptical Trainer
View More Details on Amazon:
SixStar Certified™ elliptical platform featuring the six key elements needed to deliver the smoothest
10 levels of electronic resistance and a heavy-duty 14.3-pound flywheel provide a smooth ride; low step-on height
Q-Factor: ZEROgap™ overlapping pedal motion; MP3 port with built-in Sonic Surround™ speakers
3 orange LED display windows; 10 programming options; 3 target and 3 workout programs plus 1 custom workout
User Capacity: 275 pounds
The Horizon Fitness EX-59 elliptical trainer is closely related to the higher priced EX-69-2 and EX-79. You should expect the EX-59 to possess many of the same fine qualities that are found in these other two models. This line of products is renowned for excellent construction quality, effective workouts, and diverse features and programs. One of the few compromises made by the more economical Horizon Fitness EX-59 elliptical trainer is the lack of an incline feature.
Stride
Most trainers in this price range are equipped with an 18 inch stride. This also is the case for the Horizon Fitness EX-59. Extremely tall individuals may need to look for a trainer in a higher price bracket in order to find sufficient stride length, but the EX-59 can provide a smooth and comfortable motion for the vast majority of people.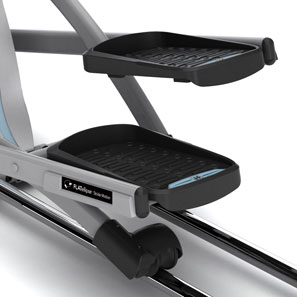 Comfort
Comfort is maintained throughout all intensity levels, from a slow walk all the way up to all out running. The smooth performance is made possible by the 14.3 inch flywheel. While the Horizon Fitness EX-59 elliptical trainer does not have the heavy duty flywheel that pricier models have, the difference in smoothness and comfort does not justify the difference in price. The EX-59 provides good value when it comes to comfort.
As with every Horizon elliptical trainer, this model was designed with to meet a patented SixStar Certification criteria that maximizes comfort for the user. This criteria:
Eliminates stress on the back and hips by finding ideal placement of pedals
Provides easy mount and dismount by maintaining a 10-inch step on/off
Utilizes optimal handlebar spacing to accommodate users of all sizes
Introduces StraightUP body posture to promote an upright position that minimizes fatigue and makes workouts more effective
Ensures a more natural elliptical stride with the 18 inch FLATellipse.
Achieves maximum workout efficiency thanks to a large drive pulley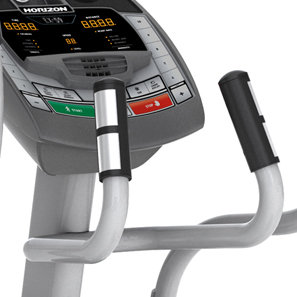 Resistance
The Horizon Fitness EX-59 elliptical trainer has 10 different resistance levels for the user to choose from. People who starting off out of shape may want to begin in the low intensity range, but anyone can work their way all the way up to very high levels of resistance that could meet the needs of any exerciser. In fact, the highest setting would be a challenge even for people in the best shape.
Programs and Features
The number 10 crops up again in the discussion of programs and features. The Horizon Fitness EX-59 is equipped with 10 different fitness programs that cover a wide range of topics. They combine to add variety and effectiveness to workouts while keeping user engaged and motivated.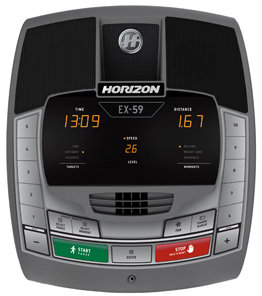 Programs include three targets (time, calories, and distance) and four workouts (reverse, hills, weight loss, train, and custom). It is possible to edit targets and workouts on the fly, changing your resistance levels as you go without any need to disrupt the flow of your workout.
Assembly and Storage
Most people will find that they need help to assemble the EX-59 because of its heavy weight. Thanks to the inclusion of built-in wheels it is easy to move the EX-59 once it has been assembled. Sliding it into a convenient storage space should not be difficult for one person.
Warranty
The Horizon Fitness EX-59 elliptical trainer comes with a fine warranty that is better than most. The frame is covered for life, the brake for 20 years, and parts and labor are each covered for one year.
Dimensions
The Horizon Fitness EX-59 elliptical trainer measures 73 x 22 x 65 inches and weighs 178 pounds.
User Reviews
Like most Horizon elliptical trainers, the EX-59 model has been rated highly by consumers. Almost 85 percent of the users who have reviewed this trainer on Amazon have awarded with either four or five points out of five. This adds up to an overall rating of 4.3 stars out of 5.
Reviews have highlighted the EX-59's quiet, smooth operation as well as its comfort. Ease of assembly is another key factor that motivated users to write positive reviews.
Any Complaints?
There are always at least a few minor complaints even for an otherwise highly rated product. In this case, the concerns have to do with the ease of use of the computer console and the overly loud beeping sound made by buttons on the machine. Some other users have voiced dissatisfaction over the lack of an on/off switch (the machine powers itself down after a couple minutes), while other taller reviewers reported that the they could not complete a full stride.
Final Recommendation
The positives definitely outweigh the negatives when it comes to the Horizon Fitness EX-59 elliptical trainer. It is a reasonably priced machine that possesses many of the same fine qualities that belong to much more expensive models. As long as you are not extremely tall, this elliptical should provide you with a very effective workout experience for a very fair price.
| | |
| --- | --- |
| Resistance Range | 1-10, electronic |
| Flywheel | 14.3 pounds |
| Elevation Range | N/A |
| Stride Length | 18-inch foot path |
| Pivoting Foot Plate | Yes |
| Footpad | ComfortFIT footpads |
| Console Feedback | 3 orange LED windows |
| User Programs | 10 program options with 3 targets (time, distance, calorie) and 4 workouts (hills, weight loss, reverse train, custom) |
| Speakers | Sonic Surround speakers with MP3 compatibility |
| Fan | COOLfit fitness fan |
| Weight Capacity | 275 pounds |
| Dimensions Assembled | 73 by 22 by 65 inches (L x W x H) |
| Dimensions Boxed | 52 by 30 by 19 inches (L x W x H) |
No video reviews found for this product.