| | |
| --- | --- |
| Quality: | |
| Effectiveness: | |
| Features: | |
| Average Customer Rating: | |
Pros:
Quality, sturdy materials
Versatility
Safe, effective workout
Cons:
Painful backstrap
Not ideal for very tall users
Bottom Line:
The overwhelming majority of users have had a very positive experience with the Bowflex Blaze Home Gym. The diverse number of exercise options along with the overall quality of the system combine to make it a great value purchase even with a higher price tag.
Manufacturer: Nautilus, Inc.
Model: 340000
List Price: $799.99
Sale Price:

$799.99
View More Details on Amazon:
60+ exercises for a fully body workout
210 lbs. of Power Rod resistance, upgradable to 310 lbs. or 410 lbs
Bowflex provides 7 free trainer-built workout regimens
Sliding seat rail allows you to perform aerobic rowing and leg presses
Multiple cable/pulley positions enable custom workouts
Lat bar and squat bar included
Triple function hand-grip/ ankle cuffs included
Folding bench and wheels provide easy storage
Home gyms are very popular with consumers these days. Considering that the Bowflex Blaze Home Gym allows for more than 60 exercises that make it possible for a user to target many muscle groups throughout the body, and yet the product is still priced under $1,000, it is easy to see why it is so highly regarded.
At first glance, the Bowflex Blaze Home Gym may look like a completely perfect option for anyone interested in getting a complete workout in the comfort of their own home. As is the case with almost any product, there are at least a few minor issues that you should be fully aware of before you make the final purchasing decision. Read on to get the full scoop.
Exercises
You can use the Bowflex Blaze Home Gym to perform arm, shoulder, chest, ab, back, leg, and ab exercises. It adds up to 60 total exercise options, meaning this gym offers one of the most varied workout experiences you will find on the market.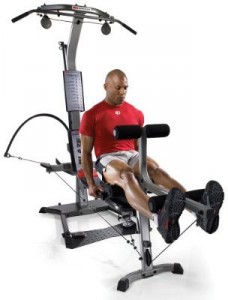 This system comes with a lat tower and lat bar that is specifically designed to target back and shoulder muscles. Two attachments — the leg curl and leg extension attachments — make it simple to strengthen legs. If you want to perform squats, you will be thrilled to find a squat station comes included. The rail guided seat allows for aerobic rowing and leg presses.
Perhaps best of all, creating custom workouts is a cinch thanks to features like multi-function handgrips and ankle cuffs.
Resistance
Bowflex home gyms are known for their Power Rod Technology. The rods on the Bowflex Blaze Home Gym are strong and durable, and they are backed by a lifetime warranty. The system comes with capability up to 210 pounds of resistance, and it is possible to upgrade to either 310 pounds or 410 pounds.
The Power Rods are supposed to deliver an intense workout that is easy on the joints and capable of delivering a completely pain free experience. Some users have expressed doubts about the "pain free" claim made by the manufacturer. You can read more about it in the "Any Complaints" section below.
Assembly and Storage
Assembly can be a lengthy process — many users report spending more than two hours putting the system together — but it is relatively free of stress and frustration due to the clear and detailed instructions.
Storage is aided by the folding design of the Bowflex Blaze Home Gym. It will fold down to a size of 52 x 38 inches.
Warranty
Users receive two generous warranties when they purchase the Bowflex Blaze Home Gym. A five-year warranty covers the construction and a lifetime warranty covers the Power Rods.
Dimensions
The system measures 90 x 38 x 83 inches and has a shipping weight of 214 pounds. The manufacturer suggests a workout area of 8' 4" by 6' 6". During storage, the system folds down into dimensions of 52 x 38 inches.
User Reviews
It is clear that the Bowflex Blaze Home Gym is very popular with consumers. More than 80 users have weighed in with their opinion on Amazon. The average rating of these reviews is out of 5 stars, which is about as high as you will find for any piece of exercise equipment.
Many users have pointed the wide range of exercises as their favorite feature of this home gym. Others have pointed to the quality of the components and the overall sturdiness. It also is common for users to point out that using this product is much safer than using free weights.
Any Complaints?
There are a few minor complaints mixed in with all the positive feedback from users. Some very tall users have complained about the fact that it is essentially impossible for them to perform a few exercises on this machine. Others have suggested that the resistance is not up to the level listed by the manufacturer.
Perhaps the most important issue that could affect the most users is the backstrap on this system. Some users have said the this strap can dig into the skin during workouts, causing pain.
Final Recommendation
While the Bowflex Blaze Home Gym is more expensive than many of its competitors, it also offers a significantly better workout experience. It is clearly constructed of finer materials and should have no problem staying in great shape for many years to come. If you have the money to spend on a high end home gym, this should be at the top of your list.
Resistance
210 lbs Power Rod Resistance
Upgradeable Resistance
Yes- to 310 lbs or 410 lbs
Platform
Horizontal
(bench folds to save space)
Number of Exercises
60+
Exercises Pictured in Owners Manual
66
Arm Exercises
16
Chest Exercises
8
Ab Exercises
5
Back Exercises
9
Shoulder Exercises
14
Leg Exercises
13
Cardio Row
Yes
Maximum User Weight
300 lbs
Workout Area Required
L 90″ x W 38″ x H 83″
Warranty
Frame: 1 year
Parts: 60 days
Power Rods: 5 years
No video reviews found for this product.