| | |
| --- | --- |
| Quality: | |
| Effectiveness: | |
| Features: | |
| Average Customer Rating: | |
Pros:
Quality components
Quiet operation
Smooth, natural pedaling motion
Cons:
No on/off switch
Inaccurate heart rate monitor
Bottom Line:
It is hard to find negatives about this machine. The Livestrong LS5.0U Upright Bike has many of the same great features that you will find on much more expensive models. If you want high end features at a lower cost, this could be the product for you.
Livestrong LS5.0U Upright Bike
View More Details on Amazon:
Upright exercise bike with contoured, oversized seat for comfort
20 levels of magnetic brake resistance; 11 preprogrammed workouts
8.8-pound flywheel delivers fluid, consistent cycling motion
Sonic Surround speaker system with iPod/MP3 player support
Measures 22 x 41 x 56 inches (W x H x D); 10-year frame warranty
Livestrong typically produces exercise equipment in the higher price ranges, but the Livestrong LS5.0U Upright Bike is closer to mid range. That could raise concerns about how many compromises the company made in order to release a machine at a significantly lower cost than usual. At first glance this machine appears to be as well constructed and to contain as many technological features as some of its more expensive brethren. Read on to find out if there are any major drawbacks lurking under the surface of the Livestrong LS5.0U Upright Bike.
Flywheel
Flywheels have a bigger impact on the smoothness of the pedaling motion than anything else. A poor flywheel will often lead to inconsistent tension and wobbly workouts. While this product has a flywheel that is relatively light at 8.8 pounds, some other measures taken by the manufacturer have ensured a smooth, natural, and wobble-free operation.
Flywheels also can cause trouble with the noise they put out. Fortunately, this does not appear to be a problem for the Livestrong LS5.0U Upright Bike. You will be able to workout quietly without waking your kids, roommates, or neighbors. This also makes it easy to listen to music or watch TV while working out.
Resistance
The Livestrong LS5.0U Upright Bike comes with a surprisingly large number of resistance levels. With 20 different difficulty levels to choose from, you will have a very hard time finding another product with the same amount of options for under $1,000. You should have no trouble fine tuning the machine to your exact fitness level.
Comfort
In general, exercise bikes are not known for comfort. They are great if you want to get a quick, effective workout in your own home, but most experienced users will tell you that you may finish your workout with a sore bottom. This is certainly the case for most machines under $600. Having said that, the Livestrong LS5.0U Upright Bike has a contoured, oversized seat that delivers above average comfort. It adjusts horizontally and vertically for a customized fit that should work for almost any body size.
Programs and Features
Like other machines from this manufacturer, the Livestrong LS5.0U Upright Bike has a wide range of workout programs. These preprogrammed workouts add variety to a fitness regimen and they keep users engaged. Thanks to these 11 programs, you should have an improved chance of sticking to your goals.
Livetrack
The best part of the computer on this machine is that it allows you access to Livetrack Interactive Technology. If you have never heard of this feature, you should know that it is exclusively available on Livestrong products. It is a big part of the reason that some people have switched to Livestrong over other brands. By transferring a USB device from this machine to your computer, you can record and upload your workout stats in order to get feedback and make improvements. Livetrack also gives you access to programs designed by Peter Park, former conditioning coach to Lance Armstrong.
Display
Some budget bikes come with poorly lit, difficult to read LCD displays. That is not the case with the Livestrong LS5.0U Upright Bike. It allows you to easily track and read workout stats like resistance, speed, watts, time, distance, and calories burned. Accurate heart rate readings also are possible thanks to the grip sensors.
Speakers
As long as you are not an audiophile, you should be happy with the sound quality of the built-in speakers. This is a nice feature that works well compared to speakers on similar equipment.
Assembly and Storage
A straightforward assembly process should keep your time commitment relatively low. All the necessary tools are provided in the box, but as usual, you should use your own to get the best results.
The size and weight of the Livestrong LS5.0U Upright Bike are both average to below average, meaning storage is not difficult. You should be able to move this machine by yourself.
Warranty
Livestrong offers a 10-year warranty for the frame and a one-year warranty for all parts and labor.
Dimensions
The Livestrong LS5.0U Upright Bike measures 22 x 41 x 56 inches and weighs 86 pounds.
User Reviews
Like many other Livestrong products, this machine has received above average reviews. This is clear from the average rating from reviewers on Amazon. The Livestrong LS5.0U Upright Bike has received a rating of 4.2 out of 5 stars from approximately 45 reviewers thus far.
Users love the quietness of the machine, the quality of its construction, the effectiveness of the workout experience it provides, and the smooth pedaling motion.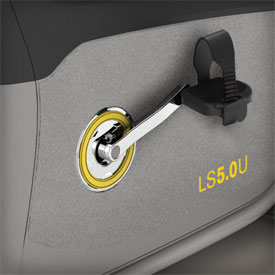 Any Complaints?
Only minor complaints have been lodged at this machine. There have been a very small number of users who have reported parts breaking or wearing down after 18 months or more, but that is not unusual for machines in much higher price ranges. If there have been consistent negatives noted by users, it is that the machine must power down on its own rather than through an on/off switch and that it is slightly less comfortable for shorter people.
Final Recommendation
The positives greatly outweigh the negatives on this bike. If you are looking for a product in the mid price range, this could be the one, especially if you would use the added features provided by Livetrack.
| | |
| --- | --- |
| Dimensions | 22 x 41 x 56 inches (W x H x D) |
| Weight | 86 pounds |
| Shipping Weight | 102.4 pounds |
| Flywheel Weight | 8.8 pounds |
| Display Type | Backlit LCD and 2 LED feedback windows |
| Seat Type | Padded seat |
| Pedal Type | QuickZip pedal straps |
| Resistance | 20 levels |
| Preprogrammed workouts | 11 |
| Heart Rate | Contact grips |
No video reviews found for this product.